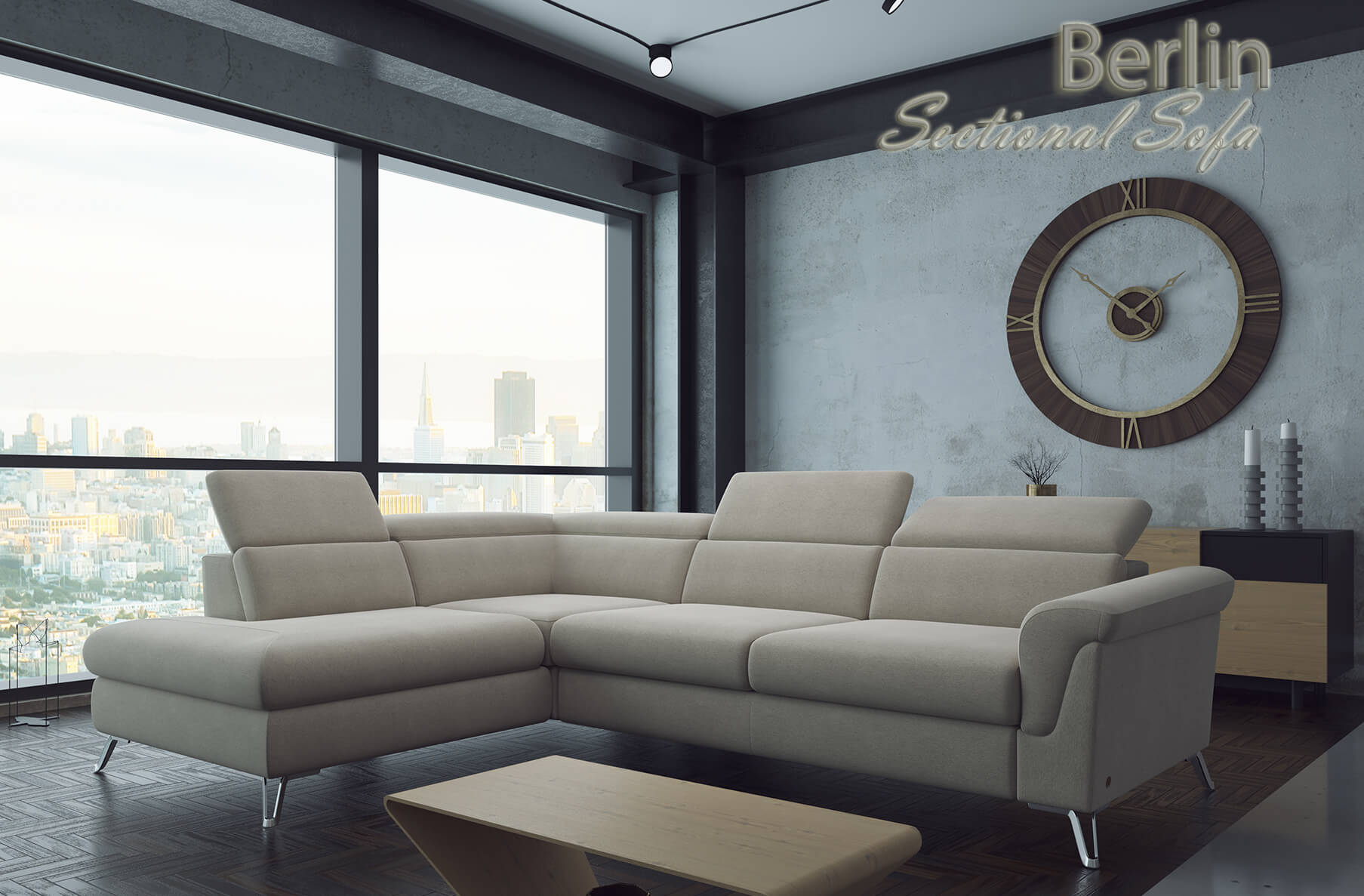 Berlin sectional has become quite popular because of its stylish and unique design. German technology has ensured this design looks aesthetically appealing. Spending just a few moments with this product give you a clear idea about its quality. With appropriate design, you can enjoy comfort and relaxation. The corner and frame of the load-bearing elements are manufactured from high quality beech wood. Thus, the product can easily withstand intense use and heavy workload. Available as sofa, loveseat, chair and also different configurations with sofa bed or recliner.
The corner of this product has been filled with a combination of non-woven sponges of silicon. These provide your body with an ideal seating position after a long and tiring day. The legs are manufactured from chrome plated metal. This emphasizes on the stylish and impressive appeal of Berlin sectional.
You can individually adjust headrest to suit your expectations and tastes.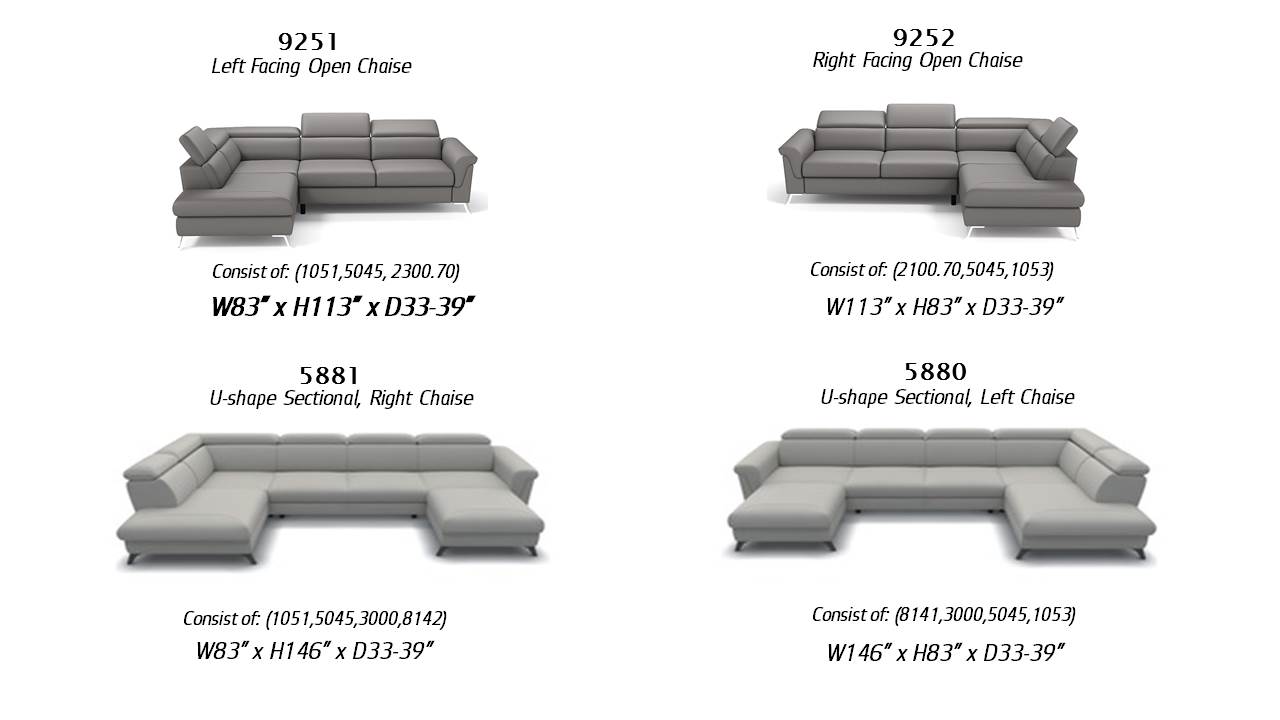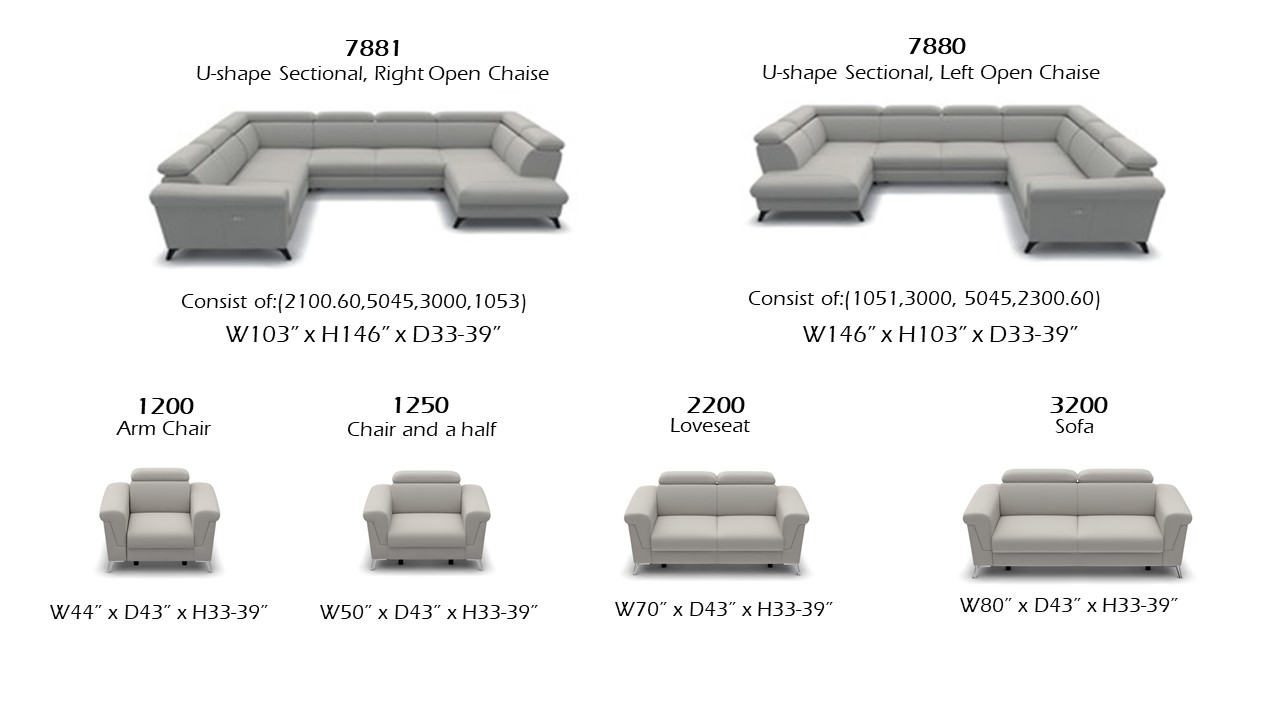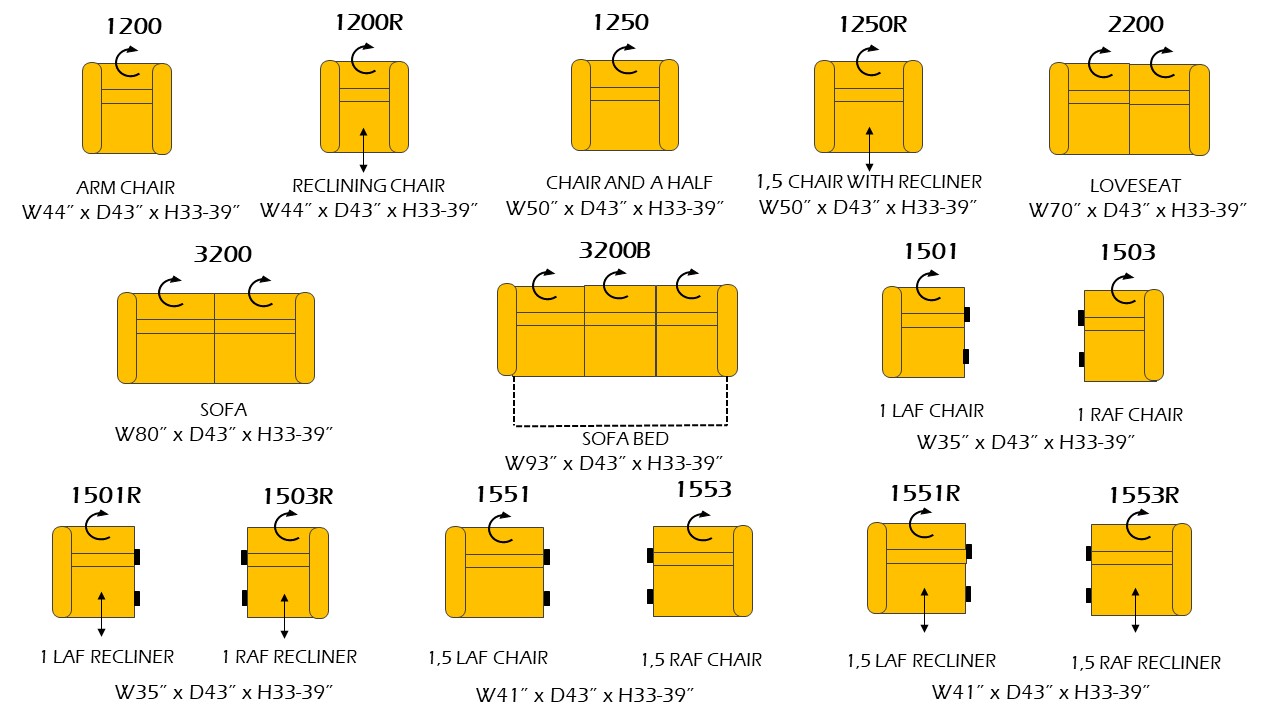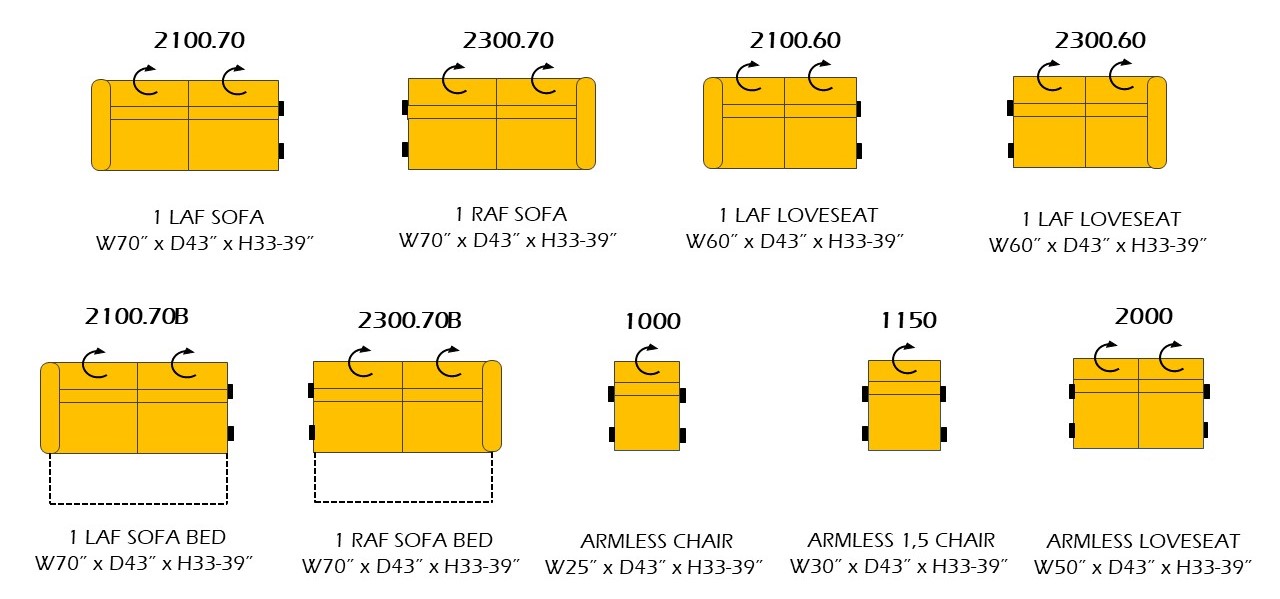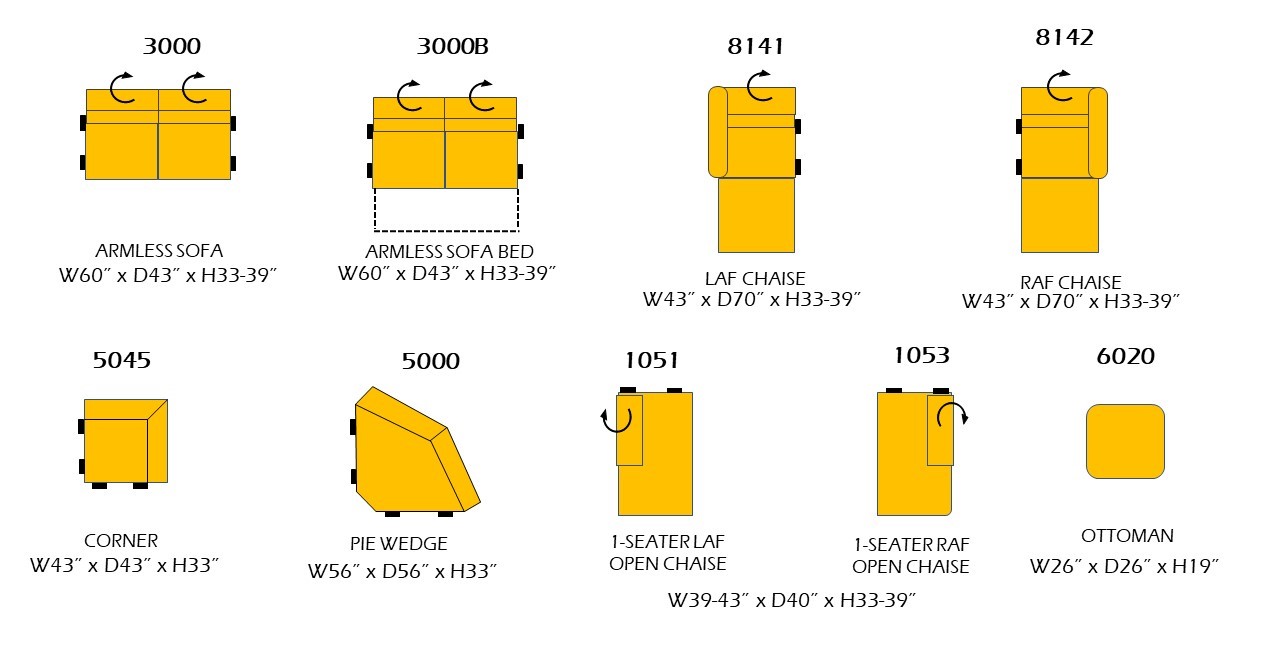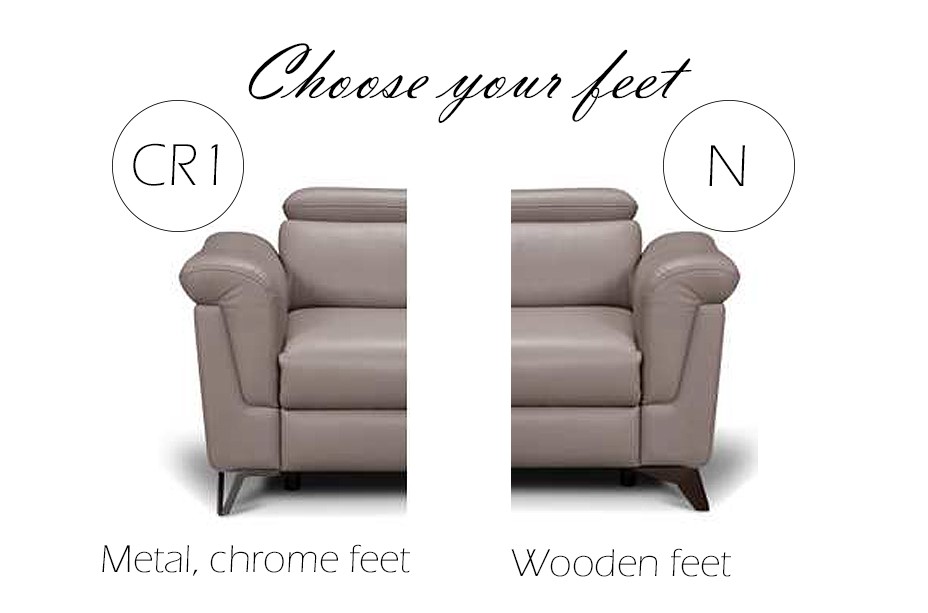 DETAILED DIMENSIONS
Sofa Depth:  39" /43"  (100cm/109cm)
Sofa Height: 33" with headrest down /39" with headrest up (84cm/100cm)
Seat Height: 18.5" (47cm)
Seat Depth: 23" (58cm)
Armrest Width/Armrest Height: 10"/25"   (25cm/64cm)
COVER
Two-Tone Option (Mix of fabrics): No
Extra cut in leather: Yes, in the back
Restrictions: Patterned/Accent fabrics
Contrast Stitching: No 
AVAILABLE FUNCTIONS
Sleeping function/ Sofa bed: Yes (3200B, 2100.70B, 2300.70B, 3000B)
Storage in : 8141, 8142, 1051, 1053
Moving Parts: Adjustable Headrest
Other: Recliner (Relax Function) 1200R, 1503R, 1501R, 1551R, 1553R
CONSTRUCTION
Seat: Wavy spring (S-springs), high-elastic foam
Backrest: Upholstery belts (webbing) /Polyurethane foam